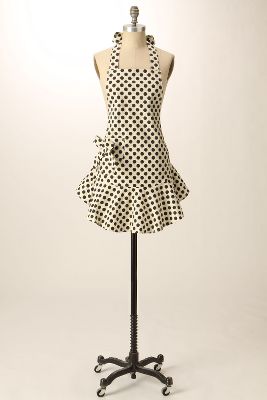 I got my first apron as a wedding gift. It was a handmade apron by Vicki Botkin. Very old school, retro, hippie. I used it as a kitchen decoration at first. But then I started wearing it. And I've been wearing aprons ever since. Going on 30 years.
Why do I wear aprons? I wear aprons to keep my clothes clean. If I so much as step one toe into the kitchen, food spatters jump at me, and glom on to my pretty clean clothes. I wear aprons to protect myself.
It all came together in my head when I took the boys on a Living History field trip. The female 'actors' for the Living History Farm were all wearing aprons. They explained it so: "We wear aprons, because we only do laundry once a week. This way, our aprons get dirty, and not our clothes. " It made sense to me!